Catalog Number: 4001
Name : Recombinant Human N(G),N(G)-dimethylarginine dimethylaminohydrolase 1 (DDAH1)
Species : Human
Source : E. coli cells
Amino acids : 2 to 285
Predicted Molecular Weight : 20.8 kDa (58 kDa with GST tag)
ProteinID : O94760 (DDAH1_HUMAN)
Sequence:
MAGLGHPAAFGRATHAVVRALPESLGQHALRSAKGEEVDV
ARAERQHQLYVGVLGSKLGLQVVELPADESLPDCVFVEDV
AVVCEETALITRPGAPSRRKEVDMMKEALEKLQLNIVEMKD
ENATLDGGDVLFTGREFFVGLSKRTNQRGAEILADTFKDYA
VSTVPVADGLHLKSFCSMAGPNLIAIGSSESAQKALKIMQQ
MSDHRYDKLTVPDDIAANCIYLNIPNKGHVLLHRTPEEYPE
SAKVYEKLKDHMLIPVSMSELEKVDGLLTCCSVLINKKVDS*
*Recombinant proteins are expressed from synthetic genes. DAPCEL Inc. synthetic gene design technology provides highest protein quality in terms of protein folding and bioactivity.
MSDS (PDF)
Product specifications
| | |
| --- | --- |
| Estimated Molecular Weight, SDS-PAGE: | 58 kDa (shown below) |
| Grade & Purity: | >85%, (according to SDS-PAGE stained with SimplyBlue SafeStain, (Invitrogen)). |
| Endotoxins: | Less than 0.1 EU per 1 µg of the protein by LAL method. |
| Bioactivity: | >50 pmol/min/µg, tested in ADMA hydrolysis assay (see below). |
| Formulation: | 0.5mg/mL in 50mM Tris-HCl pH 8.0, 20mM reduced glutathione, 1mM DTT; frozen. |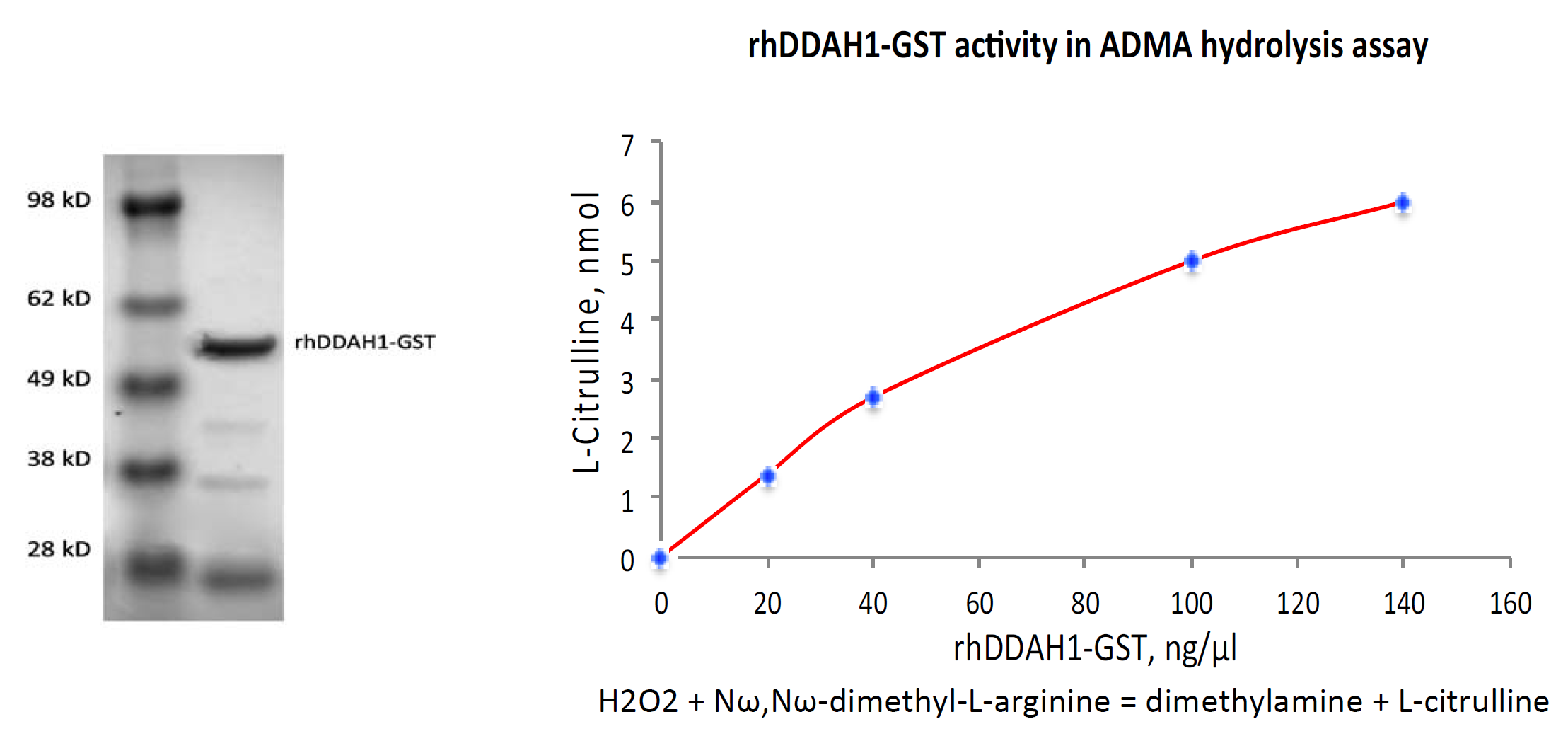 Shipping
Product is shipped on dry ice. Upon receipt, store at -80°C.
Product application and Storage
Storage: To avoid loss of the protein, store the protein in aliquots at -80°C. Avoid repeated freeze-thaw cycles..
Stability: 12 months from date of receipt, stored at ­20 to ­80 °C as supplied.
DDAH1 background information
DDAH1 is the major enzyme that degrades the endogenous nitric oxide (NO) synthase inhibitor asymmetric dimethylarginine (ADMA). It catalyzes the chemical reaction ADMA + H2O2 + Nω,Nω-dimethyl-L-arginine = dimethylamine + L-citrulline. In DDAH1 transgenic mice, ADMA is decreased while NO production and angiogenesis are increased (1). Conversely, in the DDAH1 KO mice, ADMA was increased with a consequent decrease in NO production and angiogenesis (2). An impairment of DDAH activity results in the elevation of plasma ADMA, and impairment of vascular relaxation observed in humans with cardiovascular diseases. The importance of the DDAH/ADMA pathway on angiogenesis has been demonstrated in a number of systems. DDAH1 transgenic mice show increased blood vessel formation in a mouse model of hind limb ischemia as well as in the fibro-vascular disc system (1, 3). The DDAH/ADMA pathway has been considered as a potential therapeutic target to treat cardiovascular disease, lung disease, renal disease and cancer (4).

1. Jacobi et al. (2005) Circulation 111: 1431–1438.
2. Hu et al. (2011) Arterioscler Thromb Vasc Biol 31(7): 1540–6.
3. Achan et al. (2005) Vasc Med 10: 7–14.
4. Leiper, Nandi (2011) Nat Rev rug Discov 10(4): 277–91.