Catalog Number: 4002
Name : Recombinant Human N(G),N(G)-dimethylarginine dimethylaminohydrolase 2 (DDAH2)
Species : Human
Source : E. coli cells
Amino acids : 2 to 285
Predicted Molecular Weight : 29.5 kDa (55 kDa with GST tag)
ProteinID : O95865 (DDAH2_HUMAN)
Sequence:
MGTPGEGLGRCSHALIRGVPESLASGEGAGAGLPALDLAK
AQREHGVLGGKLRQRLGLQLLELPPEESLPLGPLLGDTAVI
QGDTALITRPWSPARRPEVDGVRKALQDLGLRIVEIGDENA
TLDGTDVLFTGREFFVGLSKWTNHRGAEIVADTFRDFAVST
VPVSGPSHLRGLCGMGGPRTVVAGSSDAAQKAVRAMAVLT
DHPYASLTLPDDAAADCLFLRPGLPGVPPFLLHRGGGDLPN
SQEALQKLSDVTLVPVSCSELEKAGAGLSSLCLVLSTRPHS*
*Recombinant proteins are expressed from synthetic genes. DAPCEL Inc. synthetic gene design technology provides highest protein quality in terms of protein folding and bioactivity.
MSDS (PDF)
Product specifications
| | |
| --- | --- |
| Estimated Molecular Weight, SDS-PAGE: | 55 kDa (shown below). |
| Grade & Purity: | >87%, (according to SDS-PAGE stained with SimplyBlue SafeStain, (Invitrogen)). |
| Endotoxins: | Less than 0.1 EU per 1 µg of the protein by LAL method. |
| Bioactivity: | N/A |
| Formulation: | 1.0 mg/mL in 20mM Tris-HCl, 150mM NaCl pH 8.5; frozen. |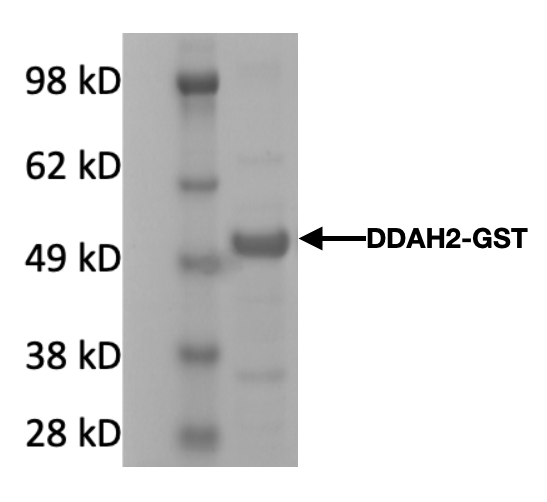 Shipping
Product is shipped on dry ice. Upon receipt, store at -80°C.
Product application and Storage
Storage: To avoid loss of the protein, store the protein in aliquots at -80°C. Avoid repeated freeze-thaw cycles..
Stability: 12 months from date of receipt, stored at ­20 to ­80 °C as supplied.
DDAH2 background information
DDAH2 is believed to hydrolyze N(G),N(G)-dimethyl-L-arginine (ADMA) and N(G)-monomethyl-L-arginine (MMA) which act as inhibitors of NOS. Therefore, it is believed to have a role in the regulation of nitric oxide generation. However, its enzymatic activity is a subject of a debate.
1. Leiper J.M., et al., (1999) Biochem. J. 343:209-214.