Catalog Number: 5003
Name : Recombinant Glutathione S-transferase (GST)
Species : Schistosoma japonicum
Source : E. coli cells
Amino acids : 1 to 218
Predicted Molecular Weight : 26 kDa
ProteinID : P08515 (GST26_SCHJA)
Sequence:
MSPILGYWKIKGLVQPTRLLLEYLEEKYEEHLYERDEGDK
WRNKKFELGLEFPNLPYYIDGDVKLTQSMAIIRYIADKHN
MLGGCPKERAEISMLEGAVLDIRYGVSRIAYSKDFETLKV
DFLSKLPEMLKMFEDRLCHKTYLNGDHVTHPDFMLYDAL
DVVLYMDPMCLDAFPKLVCFKKRIEAIPQIDKYLKSSKYIA
WPLQGWQATFGGGDHPPK*
*Recombinant proteins are expressed from synthetic genes. DAPCEL Inc. synthetic gene design technology provides highest protein quality in terms of protein folding and bioactivity.
MSDS (PDF)
Product specifications
| | |
| --- | --- |
| Estimated Molecular Weight, SDS-PAGE: | 26 kDa (shown below) |
| Grade & Purity: | >99%, (according to SDS-PAGE stained with SimplyBlue SafeStain, (Invitrogen)). |
| Endotoxins: | Less than 0.1 EU per 1 µg of the protein by LAL method. |
| Bioactivity: | N/D |
| Formulation: | 1.0 mg/mL in 20mM Tris-HCl, 150mM NaCl pH 8.5; frozen. |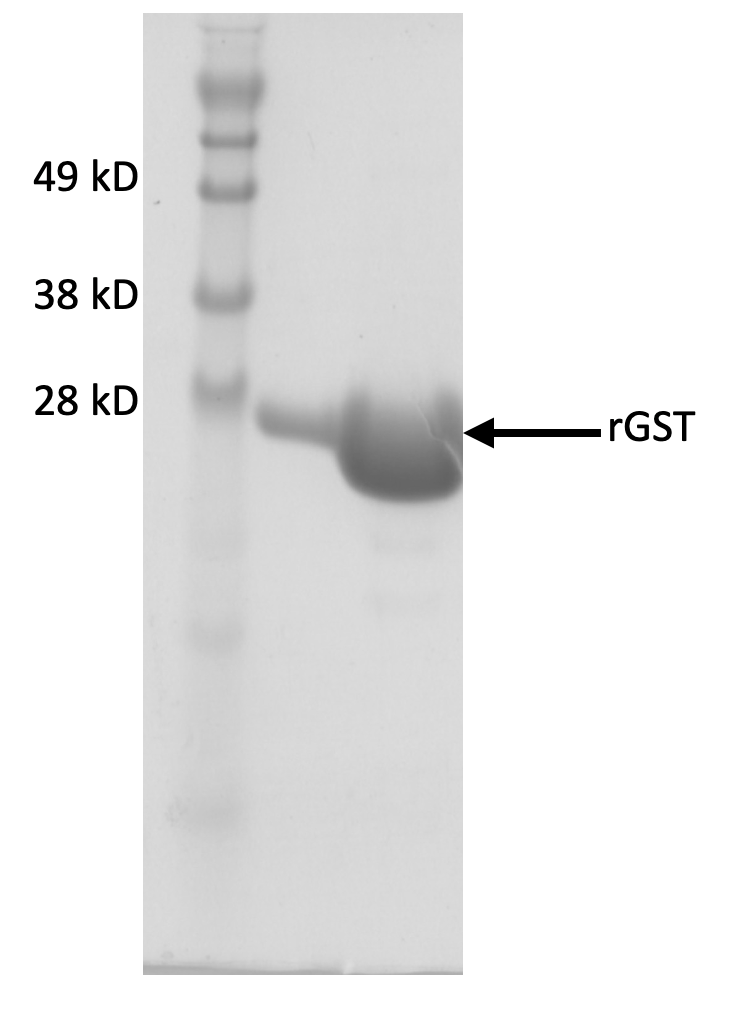 Shipping
Product is shipped on dry ice. Upon receipt, store at -80°C.
Product application and Storage
Storage: To avoid loss of the protein, store the protein in aliquots at -80°C. Avoid repeated freeze-thaw cycles..
Stability: 12 months from date of receipt, stored at ­20 to ­80 °C as supplied.
GST background information
GST is involved in conjugation of reduced glutathione to a wide number of exogenous and endogenous hydrophobic electrophiles.
Cardoso, et al (2003) Proteins 51, 137–146