Catalog Number: 3001-10
Name : Recombinant Human Interleukin 6 (rhIL-6)
Species : Human
Source : HEK 293 cells
Amino acids : 28 to 198
Predicted Molecular Weight : 20.8 kDa
ProteinID : B5MC14 (B5MC14_HUMAN)
Sequence:
VPPGEDSKDVAAPHRQPLTSSERIDKQIRYILDGISALRKETCNKSNMCE
SSKEALAENNLNLPKMAEKDGCFQSGFNEETCLVKIITGLLEFEVYLEYL
QNRFESSEEQARAVQMSTKVLIQFLQKKAKNLDAITTPDPTTNASLLTKL
QAQNQWLQDMTTHLILRSFKEFLQSSLRALRQM*
*Recombinant proteins are expressed from synthetic genes. DAPCEL Inc. synthetic gene design technology provides highest protein quality in terms of protein folding and bioactivity.
Product specification
| | |
| --- | --- |
| Estimated Molecular Weight, SDS-PAGE: | 22 kDa, under reducing conditions |
| Grade & Purity: | >99%, (according to SDS-PAGE stained with SimplyBlue SafeStain, (Invitrogen)). |
| Endotoxins: | Less than 0.1 EU per 1 µg of the protein by LAL method. |
| Bioactivity: | rhIL-6 was tested in Stat3 activation assay using Colo205-STAT3-luc reporter cell line. ED50: 4 ng/mL. |
| Formulation: | Lyophilized from 0.2 µm filtered solution of PBS, pH 7.4. |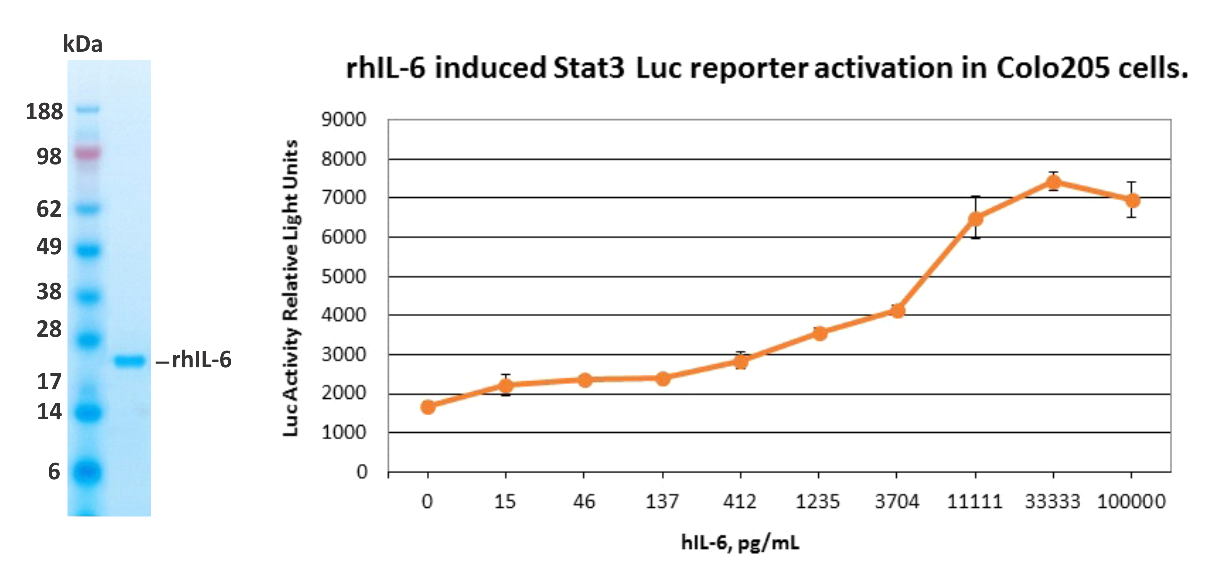 Shipping
Product is shipped at ambient temperature. Upon receipt, store at temperatures recommended below.
Product application and Storage
Reconstitution: Spin before opening. For optimal recovery - reconstitute in sterile water at ~0.1 mg/mL at room temperature; after adding water, re-cap the vial and tap gently, ensure to cover all the surfaces inside the vial. Do not mix by vortexing or by extensive pipetting. Let the vial to sit at room temperature with gentle agitation for at least 10-15 min before aliquoting or using.
Storage: To avoid loss of the protein, store the reconstituted protein in aliquots (no smaller than 10 µL) in polypropylene or siliconized tubes. Store dried and reconstituted protein at -20 and/or -80°C. Avoid repeated freeze-thaw cycles.
Stability
12 months from date of receipt, stored at ­20 to ­80 °C as supplied.
6 months, ­20 to ­70 °C under sterile conditions after reconstitution in water.
1 month, 2 to 8 °C under sterile conditions after reconstitution in water.
Application Note: For research purposes only. Not for use in humans.
IL-6 background information
IL-6 is a pleiotropic cytokine, produced by many cell types, including hematopoietic, stromal, epithelial and muscle cells. IL6 exerts its biological functions by interacting with a membrane-bound receptor mIL6R (CD126) or with its soluble form sIL6R (1).
The classical IL-6 signaling includes interaction of IL-6 with membrane-bound mIL-6R followed by interaction of the complex with the signal transducing membrane protein gp130 and activation of JAK/STAT, MAPK/ERK, and PI3K/Akt signaling pathways (2-4).
A complex comprising IL-6 and soluble sIL-6R is also able to bind to gp130 and to initiate intracellular signaling. Through this so-called "trans-signaling" mechanism, IL-6 is capable of stimulating cells that lack endogenous mIL-6R (5). sIL-6R has been found in various body fluids and has been shown to be generated by two independent mechanisms: limited proteolytic cleavage from mIL-6R and translation from a differentially spliced messenger RNA (mRNA) (6-8).
IL-6 is primarily produced at sites of acute and chronic inflammation, where it is secreted into the serum and induces a transcriptional inflammatory response. In addition to inflammation and acute phase reaction, IL-6 plays important roles in hematopoiesis, bone metabolism, and cancer progression (9-13). Also, IL-6 can function as an anti-inflammatory myokine in skeletal muscles where it is secreted in response to exercise (12). In addition, IL-6 enhances hematopoietic stem cell proliferation and the differentiation of Th17 cells, memory B cells, and plasma cells (9, 13).
1. Zhou et al. (2016) J Neuroinflammation, 13:141.
2. Kishimoto (2005) Annu Rev Immunol, 1–21.
3. Heinrich et al. (2003) Biochem J, 1–20.
4. Boulanger et al. (2003) Science, 2101–2104.
5. Rose-John et al. (2012) Int J Biol Sci, 1237–1247.
6. Horiuchi et al. (1994) Eur J Immunol, 1945–1948.
7. Mullberg et al. (1993) Eur J Immunol, 473–480.
8. Rivera et al. (2004) Eur J Heart Fail, 877–882.
9. Mansell et al. (2013) Cytokine Growth Factor Rev, 24:249.
10. Schuett et al. (2009) Thromb Haemost, 102:215.
11. Erta et al. (2012) Int J Biol Sci, 8:1254.
12. Garbers et al. (2012) Cytokine Growth Factor Rev, 23:85.
13. Mihara et al. (2012) Clin Sci, 122:143.