Catalog Number: OSM01‐13
Name : Recombinant Mature Oncostatin M (rhOSM)
Species : Human
Source : HEK 293 cells
Amino acids : 26 to 221
Predicted Molecular Weight : 22.151 kDa
ProteinID : P13725 (ONCM_HUMAN)
Sequence:
AAIGSCSKEYRVLLGQLQKQTDLMQDTSRLLDPYIRIQGLDVPKLREHCRERP
GAFPSEETLRGLGRRGFLQTLNATLGCVLHRLADLEQRLPKAQDLERSGLN
IEDLEKLQMARPNILGLRNNIYCMAQLLDNSDTAEPTKAGRGASQPPTPTPA
SDAFQRKLEGCRFLHGYHRFMHSVGRVFSKWGESPNRSRR*
*Recombinant proteins are expressed from synthetic genes. DAPCEL Inc. synthetic gene design technology provides highest protein quality in terms of protein folding and bioactivity.
Product specifications
| | |
| --- | --- |
| Estimated Molecular Weight, SDS-PAGE: | 22 kDa, under reducing conditions |
| Grade & Purity: | >99%, (according to SDS-PAGE stained with SimplyBlue SafeStain, (Invitrogen)). |
| Endotoxins: | Less than 0.1 ng/mg (1 IEU/mg), as measured by LAL method. |
| Bioactivity: | rhOSM tested in Stat3 activation assay using glioblastoma U87 cell line. ED50: 2.5-3 ng/mL. |
| Formulation: | Dried from 0.2 mm filtered solution of 20 mM Tris-HCl, 150 mM NaCl, pH 8.0. |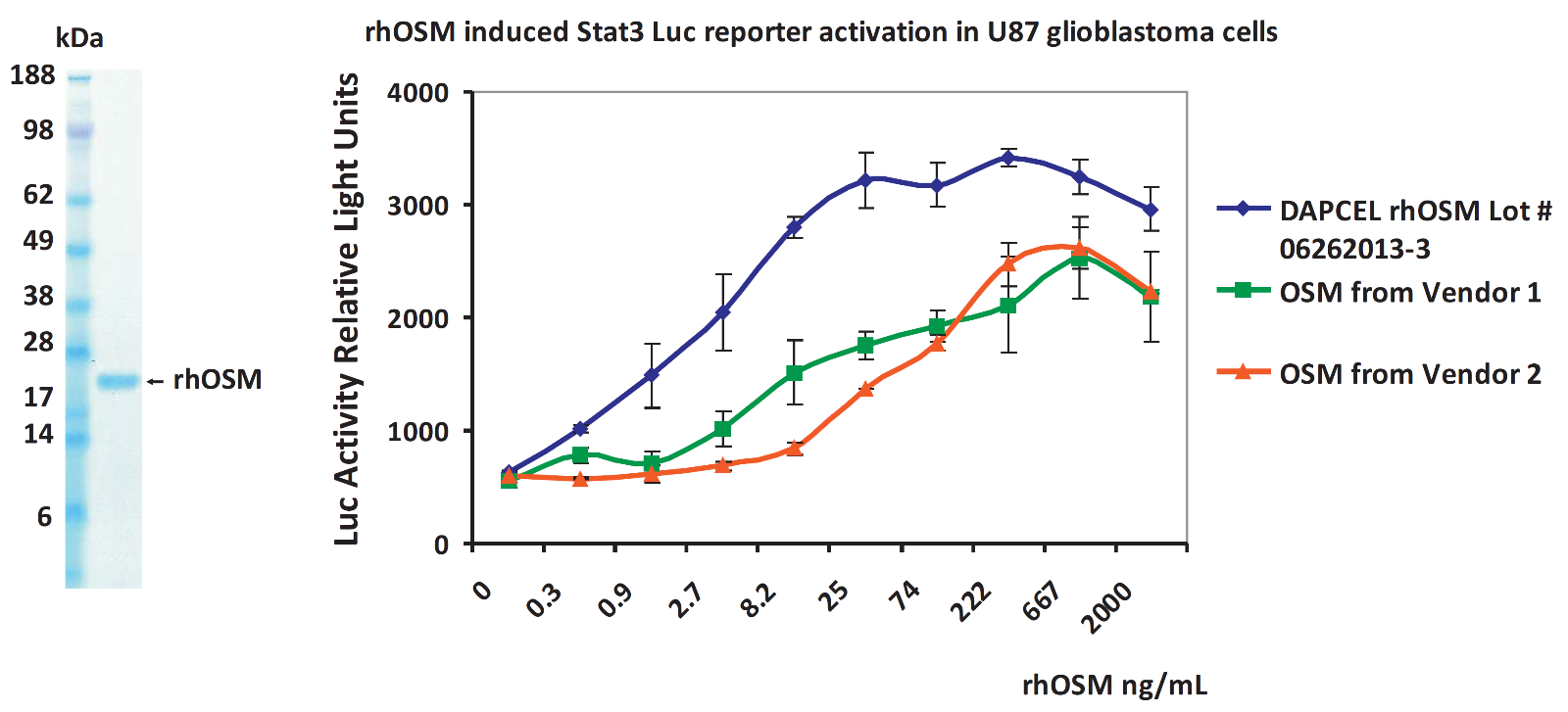 Shipping
Product is shipped at ambient temperature. Upon receipt, store at temperatures recommended below.
Product application and Storage
Reconstitution: Spin before opening. For optimal recovery - reconstitute in sterile water at ~0.1 mg/mL at room temperature; after adding water, re-cap the vial and tap gently, ensure to cover all the surfaces inside the vial. Do not mix by vortexing or by extensive pipetting. Let the vial to sit at room temperature with gentle agitation for at least 10-15 min before aliquoting or using.
Storage: To avoid loss of the protein, store the reconstituted protein in aliquots (no smaller than 10 µL) in polypropylene or siliconized tubes. Store dried and reconstituted protein at -20 and/or -80°C. Avoid repeated freeze-thaw cycles.
Stability:
12 months from date of receipt, stored at ­20 to ­80 °C as supplied.
6 months, ­20 to ­70 °C under sterile conditions after reconstitution in water.
1 month, 2 to 8 °C under sterile conditions after reconstitution in water.
Application Note: For research purposes only. Not for use in humans.
Oncostatin M background information
Oncostatin M is a member of the gp130 (IL-6/LIF) family of cytokines. It is naturally processed from 252 amino acid pre-pro OSM polypeptide. Propeptide processing is believed not to be important for OSM receptor binding activity, but may be important for growth-inhibitory activity.
Oncostatin M variable cytokine activity depends on the target cell. Oncostatin M was initially identified as a cytokine capable of inhibiting the in vitro growth of melanoma cells and solid tumors (1). It has been subsequently shown to promote proliferation of ovarian cancer cells (2) prostate cancer 22Rv1 cells (3) and AIDS-KS cells (4), up-regulate the ER chaperone Grp78/BiP in the liver cells (5), inhibit proliferation of breast cancer cell lines (6,7) and induce the activation of signaling pathways Jak2, Stat3, and Erk1/2 (8). OSM is normally expressed in macrophages, monocytes, T cells, and dendritic cells (8-10).
1. Zarling et al. (1986) PNAS, 9739-9743.
2. Li et al. (2011) J Mol Med, 101-108.
3. Godoy-Tundidor et al. (2005) Prostate, 209–216.
4. Nair et al. (1992) Science, 1430-1432.
5. Vollmer et al. (2010) Biochem. Pharmacol, 2066-2073.
6. Douglas et al. (1997) Oncogene, 661-669.
7. Douglas et al. (1998) Int J Cancer, 64-73.
8. Hintzen et al. (2008) J Immunol, 7341-7349.
9. Malik et al. (1989) Mol Cell Biol, 2847–2853.
10. Suda et al. (2002) Cytokine, 335–340.